About
About Schillinger Road
Handy Lock, located on Schillinger Road, is one of two locations serving Mobile, Alabama. We offer a variety of storage unit sizes to meet your needs. Shipping, packing, and moving supplies are available so that you can avoid the hassle of an extra trip during a busy day. Free access to our conference room is available for use to our tenants. Stop by or give us a call today. Our storage experts are happy to assist you.
Hours & Contact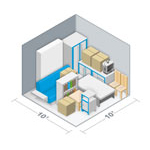 10X10X9 INTERIOR 1 CLIMATE ROLLUP GROUND LEVEL
Climate

Rates updated daily. Check back for updated rates.